The UK's No.1 Singing Waiter Entertainment
The Ultimate Singing Waiters For All Occasions
Welcome to the dynamic world of The Astonishing Singers! As seasoned professionals in the realm of surprise entertainment, we bring an exhilarating twist to special occasions. Our talented singing waiters seamlessly blend into your event, creating an atmosphere of unexpected delight and thrilling performances.
With a rich tapestry of experience in the entertainment industry, our singing waiters embody a unique blend of skill, charisma, and passion. They don't just sing – they create experiences, engaging your guests with their interactive performances from the very first note to the final standing ovation.
Your event's journey with us begins with our singing waiters playing the perfect waitstaff, blending in and building connections with your guests. When least expected, they transform into dazzling performers, the real magic happens when we bring out those irresistible, napkin-waving classics and foot-stomping hits guaranteed to lure everyone onto the dance floor.
This unique blend of music and surprise is what makes an event with The Astonishing Singers an unforgettable experience. This, after all, is what makes an event with The Astonishing Singers Singing Waiters not just another date on the calendar, but a memory to be treasured.
Explore our world, and let us add a dash of unexpected musical brilliance to your next event.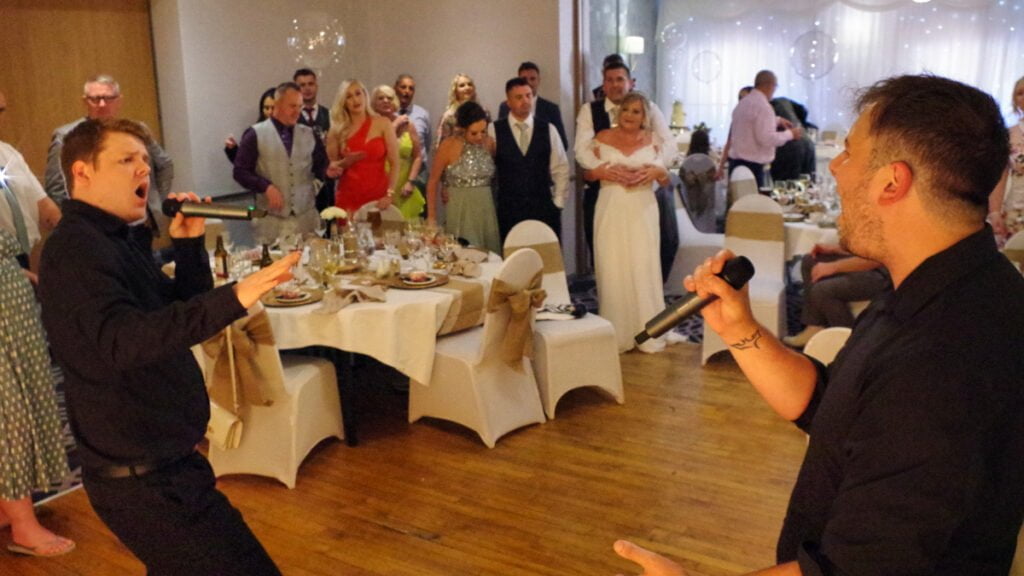 Booking the Astonishing Singers is easy and stress-free. Whether it's through our Facebook Page, by email, or through one of our agencies, we make sure that each booking process is efficient and hassle-free.
Take a look at our 3-step approach below that ensures every singing waiters event is one to remember!
When you want the best party atmosphere for your event, you want The Astonishing Singers. Our sets range from 30 to 45 minutes and we strive to provide an entertaining and memorable experience for our guests.
We pride ourselves on providing a great service, and you can see from our reviews that we always deliver on our promises.
For a further look at the impact of our performances, check out our Testimonials Page to see how we were received.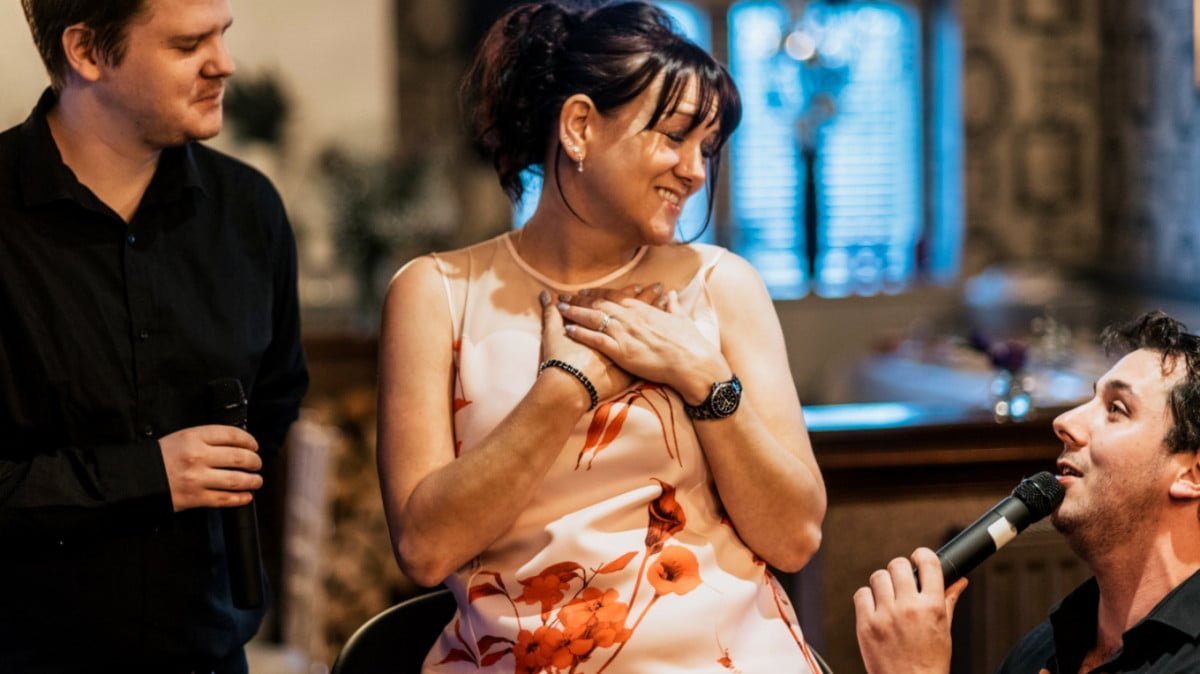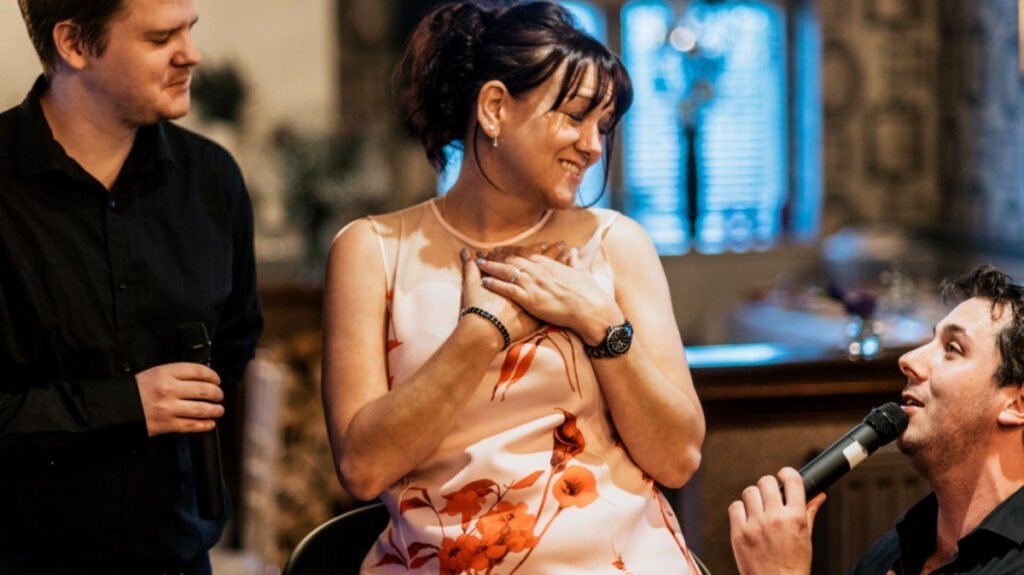 Money well spent and also an A+
The astonishing singers they where absolutely brilliant and it was the best thing of the entire day, money well spent and also an A+ for me as the best man (which I believe is down to the service of the Astonishing singers). Well done guys
The wedding guests loved it so much they had a whip round and hired Robin and Dom for the evening guests as well !!!
I hired these guys for my daughter's wedding at Waterton Hall Wakefield on 23rd July …. Amazing is not good enough to describe them !!! Robin and Dom are truly astonishing….. amazing and two of the nicest guys you will ever meet…..their performance is perfection….they give their heart and soul….they don't clock watch for time …and get absolutely everyone involved singing and dancing ….I only booked for one performance….but the wedding guests loved it so much ….they had a whip round and hired Robin and Dom for the evening guests as well !!!.If there's one thing that you can do for an upcoming wedding…. birthday etc then hire Robin and Dom to get the party started !!!
I promise you will be glad you did !!!
Once again Robin and Dom …Thank you…..you truly live up to your astonishing name…. brilliant singers and all round brilliant guys
Thank you!!!!
Your talent is impeccable
Oh guys!!! Where do I begin.
Robin and the team made this job look SO easy, even though their skills and abilities are far from it. I decided to keep the guys a complete secret during our wedding. Robin communicated promptly, reassured me whilst booking. He allowed us to pick the songs that suited our guests, worked around the service – everyone was clueless!! My marine brother came to save him when he fell it was incredible. Your talent is impeccable, you had the whole wedding party up doing the conga even my 85 year old grandma ! The wedding highlight. The best thing I did was book you guys! From the bottom of my heart thank you for making my wedding dreams come true. Means so so much!! I have recommended you to everyone! Thank you once again x
All I can say is wow!
All I can say is wow…. You are fantastic. Everyone loved you both. The whole party were on their feet having the time of their lives. Every wedding need you guys xxxx the memory will be with us forever love the new Mr and Mrs Martin
Just to say – WOW!!!
Just to say – WOW!!! The Simply Singing Waiters– were fantastic! Thank you so much for sorting them out for us at such short notice. Everyone, quite simply everyone, said how fantastic they were. We will have them back definitely! Great music, really funny and really lovely guys. Can't praise them enough!