When it comes to making your special event one to remember, the Singing Waiters team is the cream of the crop. Our troupe of musically-inclined performers are the best in the business, with a wealth of experience and training between them.
Not only are our singing waiters professional and highly skilled, but they're also a lot of fun. They love what they do and it shows in their performances. Wave goodbye to boring, run-of-the-mill waiting staff- with our team on the job, you're guaranteed a good time.
See our team below and to see us in action, be sure to check out our Facebook page or Instagram. Ready to book us for your next event? Contact us today!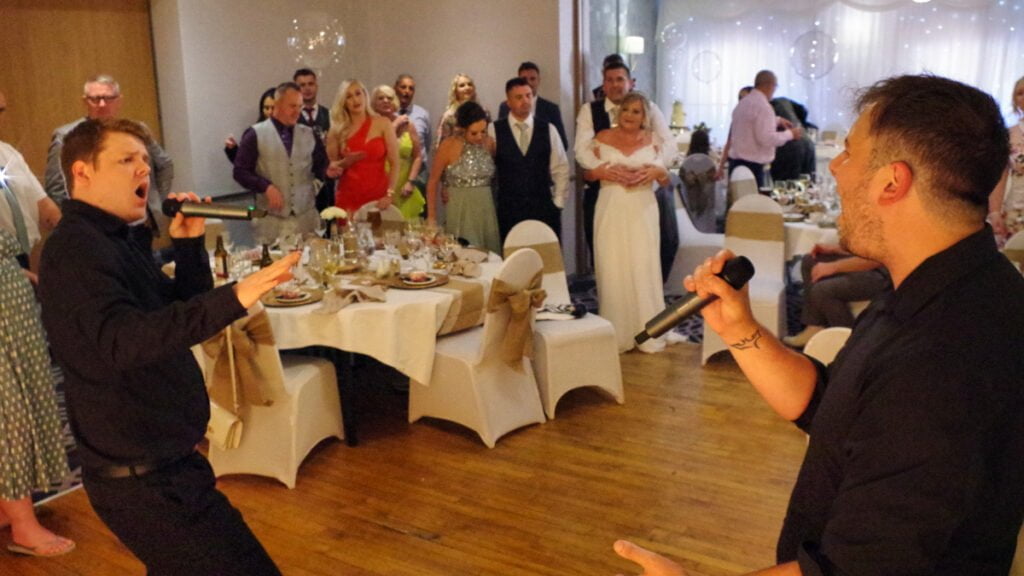 Robin Walsh
Founder & CEO

Robin Walsh, Co-founder and CEO of The Astonishing Singers, has had a passion for singing from a young age. He has trained extensively with renowned singing tutors, including Graham Trew, a Gentleman in Ordinary to Her Majesty the Queen. At 18, he attended the Bristol Academy of Performing Arts and honed his talents in all aspects of singing, dancing, and acting. During this time, he also pursued his hobbies, such as singing in gospel choirs, performing at weddings, and appearing in cabaret acts at various venues.

After touring three shows in Cyprus, Robin returned to the UK and worked as a singing waiter for several companies before deciding to co-found The Astonishing Singers. As CEO, he is committed to providing a professional and customer-centric experience. His focus on satisfying each client's unique needs has made The Astonishing Singers a leader in the industry.

Robin's experience and passion for singing are evident in his work, and his dedication to providing top-notch services has helped the company grow and thrive. As a client of The Astonishing Singers, you can trust that Robin and his team will go above and beyond to provide a unique and satisfying experience.
Dom Moccia
Founder

Dominic Moccia is a seasoned performer who got his start in a Take That tribute group, performing at venues all across the UK, including the prestigious V and A Museum in London. He was fortunate enough to be a part of the headline acts in Sitges, Spain, and even had the opportunity to perform with Sam Bailey in concert.

While pursuing his passion for performance, Dominic attended university and earned an impressive 2:1 in performance art. Since 2012, he has continued to wow audiences with his dynamic performances across the country, with a wide-ranging repertoire that includes everything from rock and musical theatre to swing and modern pop music.

As a co-founder of The Astonishing Singers, Dominic is committed to delivering a memorable and personalized customer experience. He takes pride in creating truly breathtaking performances and providing the best possible service to his clients. With his extensive experience and dedication to his craft, Dominic is a driving force behind the success of The Astonishing Singers.
Robert Durkin
CFO

Robert Durkin is an accomplished Operatic Tenor with extensive training and experience, enabling him to explore and master various singing techniques. Despite studying the science behind the voice and the Estill technique, Robert relies on his practice and experience to create a unique sound when he sings.

As a singing tutor, Robert is passionate about helping his students master the art of "phrasing," which involves delivering a phrase with true passion and musicality. This technique sets successful crossover singers apart and requires careful thought and practice. Robert's early teachers instilled in him the importance of "more legato," which he believes is the basis for making any phrase sound truly musical.

Recently, Robert joined The Astonishing Singers as CFO and is dedicated to expanding the business to provide quality experiences for all. With his vast knowledge and experience in the music industry, Robert is poised to help The Astonishing Singers reach new heights of success.
Molly Jane Griffiths
Singing Waitress